Laptop Repair Burstow
We provide a full Laptop repair & upgrade service for your work or personal machine. Some repairs can be carried out onsite (where possible), or the laptop can be taken back to our workshop to repaired or upgraded.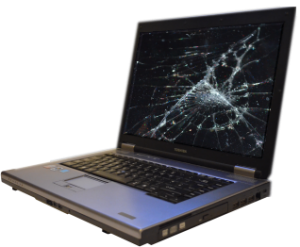 If your laptop is found to be beyond economical repair we can take a backup of your data, music, files etc and transfer them to a new machine or a portable hard disk.
Laptop Collection Burstow
We offer a free Laptop repair collection service for Burstow. We will collect your laptop from your home or work complete the repair and or upgrade and then drop it back to you when the work has been completed. (Available within a 10 mile radius of Burstow).
Routine Laptop Repair Services
Our most often requested services include;
Laptop Screen Replacement Burstow
Has your laptop got a cracked or failed Laptop screen? We can normally collect and replace your laptops broken screen within a couple of days.
Laptop Keyboard Replacement Burstow
Spilt a drink into your laptop keyboard and now it does not work? We can collect and replace your laptops keyboard, this will normally take a couple of days.
Laptop DVD Drive Replacement Burstow
Has your CDDVDBlu Ray drive stopped working, perhaps a disc has exploded inside? We can normally collect and then replace your laptops faulty DVD drive within a couple of days.
Laptop Battery Replacement Burstow
Is your Laptop not running long enough on its battery or has your internal battery failed completely? Then we can supply and fit a new one or simply drop a new battery into you.
Laptop Hard Disk Replacement Burstow
Are you finding you are having to delete files as the hard disc is full? We can upgrade your laptops hard disk to give you more storage space.
Laptop Backup & Data Recovery
If your laptop is broken or stopped working then we can normally recover your data.
If your laptop is working then we can backup and transfer your data, music and pictures to another laptop or storage device.
We Support All Makes and Models
Acer • Advent • Apple • Asus • Compaq • Dell • Emachines • Fujitsu • HP • Hewlett Packard • IBM • Lenovo • NEC • Packard Bell • Panasonic • Samsung • Toshiba • Sony
If you would like to arrange for an engineer to repair your Laptop in Burstow please either phone us on 0800 978 8326 or Contact Us via Email.