How Do I Turn My Raspberry PI On?
How Do I Turn My Raspberry PI On?
Looking for information on how to turn your raspberry pi on or off? Check out the information below.
Turn on your PI
The Raspberry Pi does not have an on or off switch all you need to do is plug it on and apply power!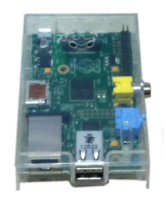 Turn off your PI
To turn off your PI you should shut down your operating system first before removing the power lead Otherwise it could corrupt your software. If you are running a linux operating system either click the shutdown button or open the terminal and then type in  sudo halt -h
When all the LEDS have gone off (bar the green) you can remove your power lead.
For more Tutorials and Hints & Tips on the Raspberry PI check out our Raspberry PI Blog Section
If you would like to Buy a Raspberry PI, its accessories or software check out our –
If you would like help with your Raspberry PI, computer or laptop then please contact us or visit our IT Support Page.