How Do I set up an Email Forwarder in Gmail?
 How Do I set up an Email Forwarder in Gmail?
Below are instructions to allow you to setup an Email Forwarder in your Gmail account. The Email Forwarder feature is perfect for sending a copy of the emails sent to a Gmail account to any other Email account (It can be from any email provider).  E.g. maybe you want to send your personal emails to your work account or may be you want to set up a secondary account and don't want to have to login into both.
It is actually very simple to setup, first login to your Gmail account as normal then follow the steps below;
Step 1: If your not already in Gmail, click on the Mail icon.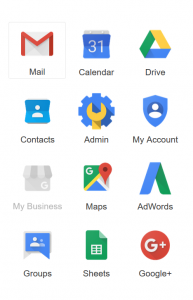 Step 2: Click the Settings Cog on the far right hand side of the screen.

Step 3: Click on the settings icon on the drop down menu.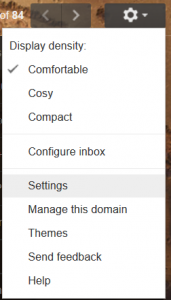 Step 4: Click the "Forwarding and POP/IMAP" option in the top bar.


Step 4: Setup the Forwarder.
Click the "Add a Forwarding Address" button.
Enter the destination Email address in the box provided.
Confirmation: Google will then ask you to confirm the email address, click Proceed if you are happy.
Confirmation Code: Google will now send a code to the destination email address, enter this in the box provided.
Click the Verify button, that's it, its all now setup. You should now get a copy of every email sent to this email account in your destination email account.
When you are happy click the "Save Changes" button.
If you have any questions or you have any tips of your own, Why not drop a comment below.